QWEB showcases one of its housing solutions at the UN Palace of Nations in Geneva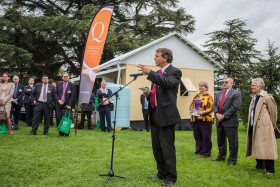 A delegation made up of representatives from the governments of Canada and Québec as well as partner companies has showcased their post-disaster housing concept during the World Habitat Day October 7, 2013 at the Palais des Nations in Geneva, Switzerland.
"Our goal is to offer a sustainable and affordable solution to people affected or displaced following conflicts or natural disasters. For us, it is a means of ensuring their health, safety and dignity, underlined Sylvain Labbé, Chief Executive Officer of the Quebec Wood Export Bureau (QWEB). As each humanitarian situation is unique, our houses can also be adapted for the specific needs of communities, from house design to on-site implementation."
The event was organized by the United Nations Economic Commission for Europe under the theme "Building a safer world together".