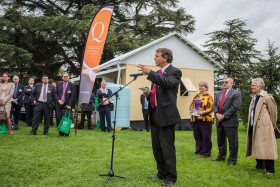 A delegation made up of representatives from the governments of Canada and Québec as well as partner companies has showcased their post-disaster housing concept during the World Habitat Day October 7, 2013 at the Palais des Nations in Geneva, Switzerland.
"Our goal is to offer a sustainable and affordable solution to people affected or displaced following conflicts or natural disasters. For us, it is a means of ensuring their health, safety and dignity, underlined Sylvain Labbé, Chief Executive Officer of the Quebec Wood Export Bureau (QWEB). As each humanitarian situation is unique, our houses can also be adapted for the specific needs of communities, from house design to on-site implementation."
The event was organized by the United Nations Economic Commission for Europe under the theme "Building a safer world together".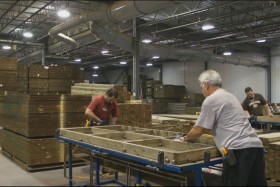 As a result of the earthquake that shook Haiti on January 12, 2010, hundreds of thousands of people suddenly found themselves homeless. In the wake of this devastating earthquake, partner company Maisons Laprise was awarded a contract by the Canadian Red Cross to produce the timber components of 6,775 wooden houses for the communities affected in Jacmel and Leogane. This was part of a larger Canadian Red Cross housing project to provide 7,500 shelters.
The completed houses each feature 18 m2 of living space. They consist of a wooden frame, a plywood exterior and a corrugated steel roof. They are easy to set up and dismantle and can withstand earthquakes and even Category 4 hurricanes.
Maisons Laprise had the necessary expertise and capacity to produce the timber components of the prefabricated house kits.  For the project, production reached up to 1,000 units per month to meet Canadian Red Cross needs and requirements. The quality of the house kits delivered met the most stringent international standards. It is also worth pointing out that local workers were trained, in part by Maisons Laprise employees, and played an active role in setting up the houses.
According to Conrad Sauvé, Secretary General and Chief Executive Officer at the Canadian Red Cross, the overall housing project offered vital stability and protection to over 37,000 people who are among Haiti's most vulnerable population.